2:06 AM • Recommendation, review, Shanghai, thoughts • 0 comments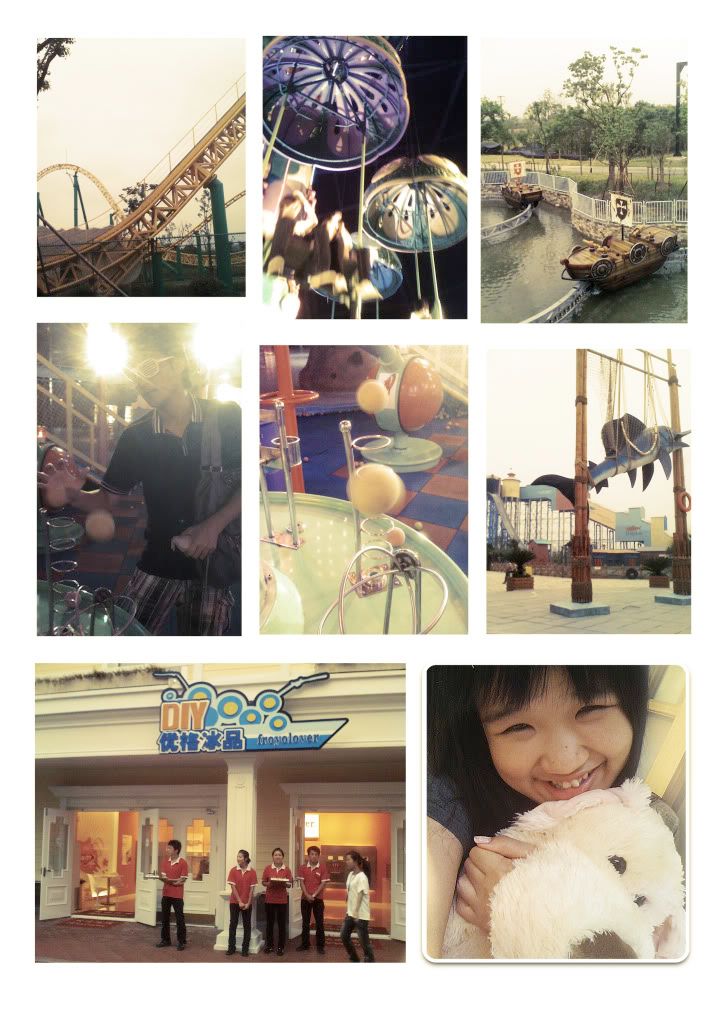 今日,
好い天気ですね
私たち HAPPYVALLEY 行きましょ
すごい、はは、始めてから LUCKY.
" & I got a new doll "
ただ.. 涙も枯れて
キミの居ない世界をさまよう..
HAPPY VALLEY REVIEW..
HAPPYVALLEY is one of the newest & soon-to-be the biggest theme park in Shanghai
although I went there today ( 31 Aug 09 )
Still there were some rides which are still not operating 'yet
however, their roller-coaster are awesome & must ride list.
Frankly saying I'm not such a fan towards creepy ride,
since I was being forced

there's no way to avoid..
but, thanks for doing so, or else I will be living in another ride-regret
'cause I've been avoiding ever since my past traumatic 'childhood' experience
RATING..
Variety of ride. ★★★★☆
Haunted Mansion. ★☆☆☆☆
" worst ever !! its a walk-in-to a pith black building.
As you walk in.. some fake props will scared you, which are so cheesy. "
Safety Overall. ★★★★☆
" just lack the feeling of not being stuck while the ride is moving, lol "
Staff Friendliness. ★★★★★
Variety of food. ★★★★☆
" As usual what all theme park has to offer are all Fast-Food KFC.
On the other hand, they also have some decent local food & ice parlor. "
Environment Cleanliness. ★★★★★
Other Ent. ★★★☆☆
" Such as getting-gift-games, & those which excluded from the ticket price. "
Price. $$ $ (med-xpensive) 200rmb (daily) 485rmb (yearly)
In Conclusion,
while you are in Shanghai this is a not-to-be missed activity~
( JUST )
one point missing out, they closes too early " 6pm "
without any fireworks
for more info, check out. http://sh.happyvalley.com.cn/
Mandy xx